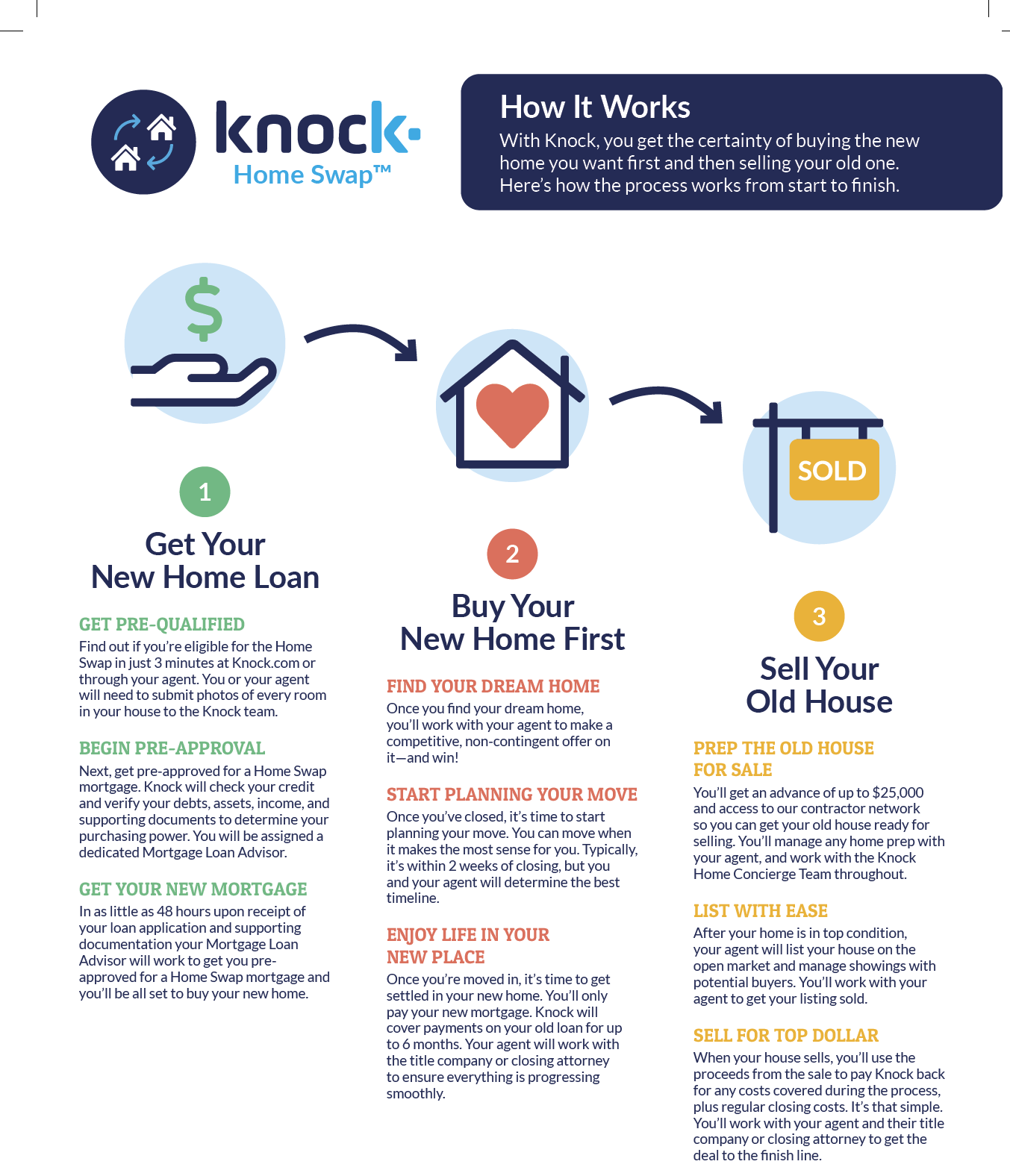 Revolutionize Your Homeownership Journey with Knock Homeswap Program
Are you looking to upgrade or downsize your current home? Do you dream of seamlessly swapping your existing house for the perfect new one? Look no further than the groundbreaking Knock Homeswap program. Our innovative and transformative approach to homeownership is designed to provide you with an unparalleled experience, empowering you to take control of your housing journey. In this comprehensive guide, we'll explore the ins and outs of the Knock Homeswap program, revealing how it can help you achieve your housing goals.
Embrace a New Era of Home Swapping
Gone are the days of enduring the arduous and stressful process of selling your home, searching for a new one, and navigating complex real estate transactions. With the Knock Homeswap program, we've revolutionized the way people buy and sell homes. Our goal is simple: to make homeownership more accessible, efficient, and enjoyable for everyone.
How Does Knock Homeswap Work?
The Knock Homeswap program operates on a simple yet powerful principle: swap your home, unlock your dreams. Here's a step-by-step breakdown of the process:
Assessment: Our team of experts conducts a thorough evaluation of your current property to determine its market value and potential.

Preparation: We work closely with you to enhance your home's appeal and ensure it stands out among the competition. From staging to repairs, we take care of all the details.

Market Listing: Leveraging our extensive network and cutting-edge marketing strategies, we list your home on multiple platforms, maximizing its visibility and attracting qualified buyers.

Home Search: Simultaneously, we assist you in finding your dream home by leveraging our vast database of properties. Our team carefully considers your preferences, budget, and desired location to present you with the best options available.

Financing Support: Knock offers comprehensive financial services, including mortgage assistance, ensuring a seamless transition from your current home to your new one.

Swap Execution: Once your dream home is secured, we coordinate the simultaneous closing of both properties, enabling a smooth and hassle-free swap. You can move into your new home without the stress of selling your old one.
The Benefits of Knock Homeswap Program
The Knock Homeswap program offers numerous advantages that make it a game-changer in the real estate market. Here are just a few benefits you can expect:
Convenience and Efficiency: Say goodbye to the traditional, time-consuming process of buying and selling homes separately. Knock streamlines the entire experience, making it convenient, efficient, and stress-free.

Expert Guidance: Our team of experienced professionals guides you through every step of the process, providing expert advice, market insights, and personalized support.

Competitive Financing: Knock offers a range of financial services, including competitive mortgage options and assistance with securing the best financing solutions tailored to your needs.

Expanded Home Options: With access to our vast database of properties, you'll have a wide selection of potential dream homes to choose from. We consider your preferences and budget to present you with options that align with your unique requirements.
Success Stories: Real People, Real Results
Don't just take our word for it—let the success stories of our satisfied clients speak for themselves. Here's what some of them have to say about their experience with the Knock Homeswap program:
"Thanks to Knock, we were able to upgrade to a larger home in our dream neighborhood without the stress of selling our old house. The process was seamless, and we couldn't be happier!" - The Thompsons
"Knock made downsizing incredibly easy for us. We found a beautiful, low-maintenance home that perfectly suits our needs. The team provided exceptional support throughout the entire process." - The Rodriguez Family
Conclusion: Take the Next Step towards Your Dream Home
The Knock Homeswap program is the future of homeownership, providing a streamlined, efficient, and enjoyable way to swap homes. Say goodbye to the complexities and uncertainties of the traditional real estate market and embrace a new era of convenience, flexibility, and opportunity. Take the next step towards your dream home with Knock Homeswap. Contact our team today to learn more and start your homeownership journey.